By Shawnda Bolon-Wilde
Ahead of the Solano Women's Ministry discussion morning, Shawnda talks honestly about her journey with infertility.
I'm not big on Mother's Day church services. During those years my husband and I were trying unsuccessfully to have a child, it was just a painful reminder of what we didn't have, what I wasn't. When I longed to be a mother, and wasn't, it felt like every day at church celebrated families with children. I raged against God, and church, and baby showers. I bit back tears through many pregnancy announcements.
And God, in his grace, loved me through it all, and eventually yanking me back and taking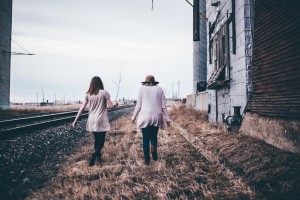 me on an adventure that I could never have imagined during some of my darkest days. It did, eventually, include a child, born in his perfect timing, and an adoption journey that might lead to another. But I think God would still have taken me on adventure and have helped me stretch and grow regardless of whether I became a parent or not.
One thing that my struggle with infertility taught me is that there are many ways to feel like an outsider at church. For some, its being single, for some its being shy for some its not having children. I've seen people run out of church crying, and some days I've been that person myself. I see you, friends, even when I don't see you – I know you are there, even though your sadness may be invisible, private, searing.
And my message to you today is this: Please show up and let yourself and your grief be seen. You may be grieving the loss of the opportunity to parent, or a child lost to miscarriage or stillbirth. Let us love you and grieve with you. I recently heard a speaker talk about how in a Jewish service when they pray the Kaddish (prayer of mourning) those who are grieving stand up, so they can be recognized, seen, and joined in prayer by the whole congregation. I know from my own experience that infertility can feel hard, shameful, or embarrassing to talk about. I know I worried about how my grief would affect other people's joy. But please, let us pray with you and for you. Find emotionally safe people who can listen and remind you of the truth of who you already are, from your identity as a beloved child of God, to your special quirks and talents.
For those looking to support those struggling with infertility or pregnancy loss, please remember that we are called to pray for healing, and to take our troubles to God, but God chooses when and in what ways to offer healing. God is good, and many faithful people who love him will still be unable to conceive, or will lose a child to miscarriage or stillbirth. People choose to deal with this in different ways, so the best advice I can give is to listen, and take your cues from your loved one. Don't assume you know how they feel, or avoid talking about it, or inviting them to certain events because it might make them feel uncomfortable. Make sure they feel like a valued, loved part of your life and community.
On Saturday, September 23rd, Solano Women's Ministry will be hosting a panel for those who are interested in learning more about infertility, as well as resources and support for those who are struggling and those who want to support them. I'd be happy to talk anyone, also.
Sending you my love and prayers,
Shawnda
sbolonwilde@gmail.com