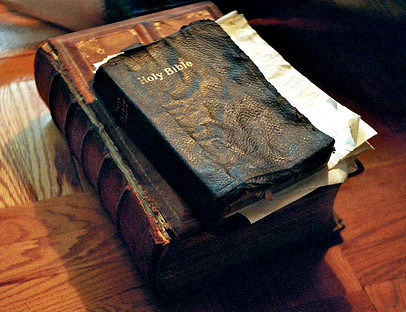 I recently read an article from some twenty years ago, written by a university professor in the Humanities, in which he was describing changes he was observing in the attitudes and perspectives of his students.  Among the things he mentioned was that books did not have nearly the same significance among those students as they had had for the students' predecessors.  Since this was twenty years ago, and with the ready availability now of the Internet, YouTube, Kindle, iPods, and Facebook, my guess is that books mean even less to students now than they did then.
I've been trying to square this with how we should value Scripture, the Bible, irrespective of our age and generation.  It's my belief that when people lose that connection to the physical book, the Bible, a decline in how the Bible is viewed is almost inevitable.  Granted, of course it is not the book which matters, rather it is the content in the book— the Word of God!— just as it does not matter hugely what translation is used or even what language is used, so long as it communicates to the heart and the spirit of the reader.  And yet—
Perhaps it is just me, but there have been more than a few times when it is hugely comforting and encouraging for me to put my finger onto the very text, to remind myself, when I am troubled about something, that the Bible speaks about that matter right here.  And many is the time, during a church service, when I am stimulated by what I am hearing and experiencing, that I am compelled to open my Bible to refresh my thinking on a related matter:  "so, God says this— but then that is supported also by what it says over here in this passage.  Yup, there it is, right-hand page, a third of the way from the top."  I know it's there on the page because it's my Bible, and I've come to know that it's right there.
Is it possible to make that connection on Kindle, or on an iPod?  Does it have the same impact?  I'm not trying to deny that the Spirit of God can use any number of media by which to communicate His Word to His people, but I have to admit that I wonder.
One of the reasons that we can trust our Bible to be a faithful representation of the original writings is the extraordinary and exquisite care that the Jewish Scripture copyists took when they were copying and re-copying Holy Scripture from one scroll or book to another.  Nothing was permitted to distract them, there was such a reverence for this Word, and as a consequence the Hebrew Scripture texts which we have from the 8th-century A.D. are fantastically faithful to those found among the Dead Sea Scrolls, dated some six to ten centuries earlier.  Yes, one can say that downloading it onto an iPod does indeed result in 100% fidelity, but is the significance the same?  Is the reverence the same?  Does it mean as much to someone when they view it on a screen?  And how can one write notes in the margin, to remind oneself of what God showed them from that particular text that day?
I am by no means advocating bibliolatry here, the worship or idolizing of the Bible.  But I will suggest that when you come to church, when you attend a Bible study, bring your Bible.  Perhaps it will not mean much for you to have your Bible there, but is that because it has not meant much to you in your home? You might even try getting in the habit, when a passage means a lot to you, of putting your finger onto the very page, to engage your sense of touch along with other parts of you, to remind yourself that my Bible says this right here.
Psalm 1 talks about the man who conducts himself rightly:
His delight is in the law of the Lord, and in His law he meditates day and night.
Psalm 119:11 talks about one salutary effect of Scripture:
Your Word I have treasured in my heart, that I may not sin against You.
Or Psalm 119:98-99:
Your commandments make me wiser than my enemies, for they are ever mine.  I have more insight than all my teachers, for your testimonies are my meditation.
Jesus Himself says, quoting Deuteronomy:
Man shall not live on bread alone, but on every word that proceeds out of the mouth of God.
There are probably many hundreds of other verses which describe the results of cherishing this book (and each of them would be equally valid if seen on Kindle or heard through an iPod!).  Delight, meditation, treasure, mine— these are intense words, very personal and possessive words, words which show the power of making it to be your Bible.  Regardless of the form in which this Word comes to us, let us do what we can to cherish and treasure it, to make it mine.