Being a disciple of Jesus is simple: just be like him. That sounds easy enough. But where in the world do you start? The Apostle Paul says we are supposed to "put off the old self and put on the new self" (Colossians 3). What does that mean? In the Gospels, Jesus says, "Follow me." Ok, how exactly do I follow Jesus? Too often we keep our heads in the clouds when we talk about discipleship and fail to do the hard work of connecting it to real life. We need a "pathway" to give us concrete steps so that we can move towards maturity. But first we need to lay the foundation for this path.
What is a disciple? 
Simply put, a disciple is a student. Students learn from a teacher. Jesus was a Rabbi, or a teacher. When we talk about being a disciple, we are making a conscious effort to sit under and submit to the instruction of Jesus. This is what the twelve disciples did in the Gospels. They followed Jesus like students that are hungry for knowledge from their teacher. What is interesting about these disciples is that they weren't believers yet. They didn't know Jesus was the Messiah when they decided to follow him. So, at the most basic level, a disciple is anyone who chooses to learn more about Jesus. Although, admittedly, in some cases the term clearly refers to believers who have made a faith commitment to Jesus.
What are the goals of discipleship?
We should think of the goal of discipleship as being and doing. This means we are to abide in Christ and obey everything he commanded. We are to be Christcentered and commissioned. This stems from the fact that our identity in Christ as blood-bought children of God is already accomplished. Jesus did in fact die and was raised to life; we stand on the foundation of God's gracious act of redemption. It is finished. We are now in a process of realizing this truth in every area of our lives. This is discipleship. We press deeper into God's grace and our lives are formed into Christ-likeness.
Who does the work in discipleship?
The Holy Spirit does the work, but we need to cooperate. Think of discipleship like this: if you want to get across the Pacific Ocean in a boat, you could row yourself part of the way, but you would never make it. You could just throw the oars in the boat and let the currents carry you around, but you would never reach your intended destination. Or you could put up a sail and let the wind power you across the ocean. This is how we cooperate with the Holy Spirit in discipleship. We intentionally raise our sails to catch the Spirit's power.
What is the Discipleship Pathway?
We developed this pathway to help illuminate the different stages of discipleship. They build on each other, but someone might be in more than one stage at a time. We hope that this pathway will guide our discipleship and give us handles to hold onto when we move forward as disciples.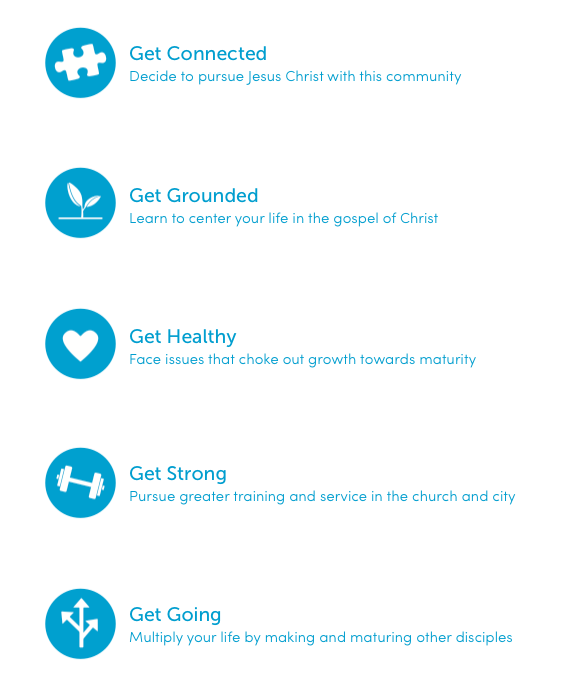 You might look at these stages and say, "I already know a lot about the Bible and I have been going to small groups my whole life, but I'm a mess when it comes to my relationships with family and friends. I need to get healthy." Or you might say, "I have a desire to follow Jesus, but I don't really know where to start. I guess I need to get connected and get grounded." Or one could think, "I have all the pieces here, but I need to get going. I have a lot to offer this world if I were to live out a gospel-centered life and utilize my spiritual gifts and my skills." This is how the Discipleship Pathway can help.
The Discipleship Pathway is a roadmap to following Jesus. It doesn't give us the "how-to", it gives us the "what-to". We need to start talking about where each of us is on the pathway. Talk about it in Home Groups, discuss it over lunch with friends, or write in a journal what steps could be taken in one or two of the stages. We want this to be used as a key to unlocking the discipleship process. We need a common language when we talk about discipleship. But most of all, we need our lives to be totally transformed by the power of the gospel applied by the Holy Spirit.