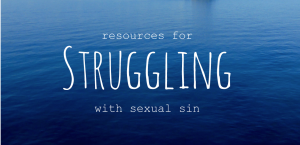 By Jackie Knapp
In the past few weeks, we have sensed God moving in our community to bring darkness to light, especially in the area of sexual sin and brokenness. As a response, we want to open the door for honest conversations and provide resources as we seek to honor God in our sex-crazy culture.
How does the gospel apply to sexual issues?
As we begin the conversation, we want hope for change to be rooted in the gospel. When we are seeing clearly, sexual struggles cause us to admit how weak our flesh is, how our hearts are drawn to darkness, and how much we need a savior. "For while we were still weak, at the right time, Christ died for the ungodly. For one will scarcely die for a righteous person – though perhaps for a good person one would dare even to die – but God shows his love for us in that while we were still sinners, Christ died for us" (Romans 5:6-8). Take some time to confess your need for Christ, to name specific ways you need saving from yourself, and thank God for all he has done for you.
While we believe the gospel is hope for change, it isn't a magic formula that guarantees a struggle-free life. Everyone's journey out of sexual sin and brokenness is different, and sometimes change is fast and miraculous. More often, change is slow and tedious, one battle at a time. Guilt, shame, despair, anger, relationship problems, misperceptions about sex, family background and dozens of other factors complicate the process of change.
As we start to examine our lives, we see that "the war against sexual darkness is longer, wider, deeper, and often more subtle than we might imagine. It is no accident that the height, depth, length, and breadth of the love and work of Jesus is more wonderful than we understand at first." (David Powlison – Making All Things New) How have you seen the gospel connect to your struggles? Is it hard for you to see how it relates?
How do we have honest conversations about sex?
Along with the foundation of the gospel, we believe that God uses the body of Christ to be a place of healing and that change is a community project. But we also know that talking about sexual sin and brokenness is not easy. We need to pray for wisdom to walk through these sensitive topics with each other.
If you are struggling and no one knows, begin praying about who God has put in your life to talk to about this. If you are having trouble figuring out how the gospel connects to your struggles, this is a great place to start the conversation. If you have been a victim of sexual abuse, who would be a safe person to share with?
If sexual sin or brokenness isn't part of your story, ask for compassion and humility and ways God can use you in the lives of people around you. If this is an area that God has redeemed in your life, pray and think about how God can use your story to encourage someone else. If you are in the midst of struggle, ask God how he can use you to come alongside others as we fight together.
As we move through this season, let's be praying for love and truth and light to be what characterizes our community, that we would model this call: "If we walk in the light as he is in the light, we have fellowship with one another and the blood of Jesus cleanses us from all sin. If we say we have no sin, we deceive ourselves and the truth is not in us. If we confess our sins, he is faithful and just to forgive us our sins and to cleanse us from all unrighteousness" (1 John 1:7-9). What is God calling you to? In what ways can you help Solano become an honest community that draws each other closer to Christ?
We would love to see more Emmaus Partnerships start out of these issues and a desire for real relationships. As God is moving, look for opportunities to initiate consistent gatherings and accountability with the people in your life. Please know that the home group leaders and staff are available if you would like to talk about your own struggles or have further ideas about the topic.
Where can we find help?
What does the Bible say about sexual struggles? There is much more, but here are a few key passages.
1. God created us as sexual beings and gave us the good gift of sex, designed for marriage.
For this cause a man shall leave his father and his mother, and shall cleave to his wife; and they shall become one flesh. And the man and his wife were both naked and were not ashamed. Genesis 2:24-25
2. Our sin distorts this good gift and turns it into lust in our own lives or the victims of someone else's lust.
For this is the will of God, your sanctification: that you abstain from sexual immorality; that each one of you know how to control his own body in holiness and honour, not in the passion of lust like the Gentiles who do not know God; that no one transgress and wrong his brother in this matter, because the Lord is an avenger in all these things, as we told you beforehand and solemnly warned you. For God has not called us for impurity, but in holiness. Therefore whoever disregards this, disregards not man but God, who gives his Holy Spirit to you. 1 Thessalonians 4:3-7
See also 1 Corinthians 6:9-20
3. We need help outside ourselves to fight this lust.
For the grace of God has appeared, bringing salvation for all people, training us to renounce ungodliness and worldly passions, and to live self-controlled, upright, and godly lives in the present age, waiting for our blessed hope, the appearing of the glory of our great God and Saviour Jesus Christ, who gave himself for us to redeem us from all lawlessness and to purify for himself a people for his own possession who are zealous for good works. Titus 2:11-14
See also Galatians 5:1,16-25
4. We join a long line of strugglers as we battle for sexual integrity. David models a place to start with confession and repentance in Psalm 51.
Create in me a clean heart, O God, and renew a right spirit within me. Cast me not away from your presence,and take not your Holy Spirit from me. Restore to me the joy of your salvation, and uphold me with a willing spirit. Psalm 51:10-12
5. God's forgiveness is bigger than our darkest sins and his cleansing washes our deepest shame.
There is therefore now no condemnation for those who are in Christ Jesus. For the law of the Spirit of life has set you free in Christ Jesus from the law of sin and death. Romans 8:1-2
For I am sure that neither death nor life, nor angels nor rulers, nor things present nor things to come, nor powers, nor height nor depth, nor anything else in all creation, will be able to separate us from the love of God in Christ Jesus our Lord. Romans 8:38-39
Fear not, for you will not be ashamed; be not confounded, for you will not be disgraced; for you will forget the shame of your youth, and the reproach of your widowhood you will remember no more. For your Maker is your husband, the Lord of hosts is his name; and the Holy One of Israel is your Redeemer, the God of the whole earth he is called. Isaiah 54:4-5
Articles
"Making All Things New: Restoring Pure Joy to the Sexually Broken"
http://www.ccef.org/making-all-things-new-restoring-pure-joy-sexually-broken
"9 Things You Should Know About Pornography and the Brain"
http://www.thegospelcoalition.org/article/9-things-you-should-know-about-pornography-and-the-brain
"Sex and the Single Woman"
http://www.thegospelcoalition.org/article/sex-and-the-single-woman
"Fighting Porn by F.A.I.T.H."
http://www.thegospelcoalition.org/article/fighting-porn-by-f-a-i-t-h
"Masturbation and Guilt"
http://www.ccef.org/resources/podcast/masturbation-and-guilt
"Slaying Porn through Christ: A Testimony of Hope"
http://www.thegospelcoalition.org/article/slaying-porn-through-christ-a-testimony-of-hope
Books
General:
Redemption: Freed by Jesus from the Idols We Worship and the Wounds We Carry
Mike Wilkerson
Addictions: A Banquet in the Grave
Ed Welch
Death by Love: Letters from the Cross
Mark Driscoll
Hooked: New Science on How Casual Sex is Affecting Our Children
Joe Mclhaney
Undefiled: Redemption from Sexual Sin, Restoration from Broken Relationships
Harry Schaumburg
For Men:
Sexual Sanity for Men: Re-Creating Your Mind in a Crazy Culture
David White
Wired for Intimacy: How Pornography Hijacks the Male Brain
William Struthers
 For Women:
Real Sex: The Naked Truth about Chastity
Lauren Winner
Sexual Sanity for Women: Healing from Sexual and Relational Brokenness
Ellen Dykas
Sexual Abuse:
Shame Interrupted: How God Lifts the Pain of Worthlessness and Rejection
Ed Welch
Rid of My Disgrace: Hope and Healing for Victims of Sexual Assault
Justin and Lindsey Holcomb
Websites
Harvest USA exists to partner with and equip the church in bringing the power of the gospel of Jesus Christ to transform the lives of those affected by sexual sin. (harvestusa.org)
Christian Counseling and Education Foundation has many resources on specific sexual sins and many other topics. (ccef.org)