"Then Jesus asked, "What is the kingdom of God like? What shall I compare it to? It is like a mustard seed, which a man took and planted in his garden. It grew and became a tree, and the birds of the air perched in its branches" (Luke 13:18-19 ESV).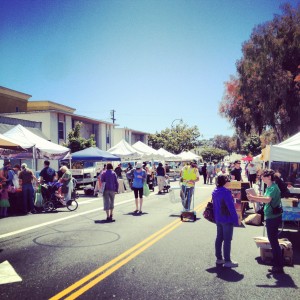 It's summer time and, if you're like me, you are enjoying some of the best fruits and vegetables this world has to offer. Farmer's markets are open for business, fruit stands show off their harvests, and grocery stores stock fresh produce from all over the country. In the midst of all this, I find it fascinating that the Kingdom of God is compared to a plant in a garden. Consider this: what is the best way to see more fruit in a garden? You may say, "Pull out the weeds," or "Prune the branches," or maybe "Water the plants." These tasks are all necessary for the continued health and growth of a plant. But in order to exponentially grow more fruit for the Kingdom of God, I say, "Plant more plants that plant plants!"
I believe that the core mission of the church is to grow more disciples of Jesus Christ through multiplying healthy churches among all people. If disciples of Jesus Christ are the fruit of the Kingdom, then what better way to grow more fruit than to plant more churches? After all, more plants in the garden will eventually produce more fruit for the Kingdom! This principle is rooted in Jesus' Great Commission.
Jesus said, "Therefore go and make disciples of all nations, baptizing them in the name of the Father and of the Son and of the Holy Spirit, and teaching them to obey everything I have commanded" (Matthew 28:19-20a). The idea of "going" to make disciples is also captured in the Paul's letters when he calls himself an "apostle" (Romans 1:1; Galatians 1:1). This is a word that means "to be sent." Jesus sends us out to the world to make disciples who will be baptized and who will obey.
When we see ourselves as sent ones who are growing disciples, we begin to reproduce fruit for the Kingdom. This is a foundational value that all churches should embody from top to bottom. New Christians should participate in evangelism events, home group leaders should be training new leaders, home groups should be multiplying, Sunday school teachers should have apprentices, worship leaders should be teaching young people how to play music, elders should be training new elders, senior pastors should have interns, and churches should be planting new churches.
It's pretty simple: a healthy Kingdom of God is one that is reproducing new fruit-bearing plants. This means that we must plant new churches for more disciples to come to Christ. Let's get to work!
Brent Kompelien is the Church Planting Resident for the Western District of the Evangelical Free Church of America and is training at Solano Community Church.