Jackie Knapp, Miguel Castuera, Laura Humphrey & the Solano Kids
Solano Church is blessed with some very talented children and young people. This Christmas we wanted to create something with them that would help them communicate the meaning of Christmas in a fresh, imaginative way… And so began The Unlikely Adventures of the Searchers and the Misfits.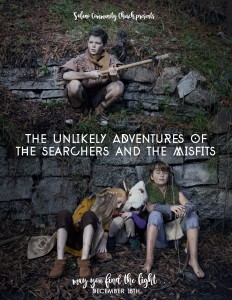 The Bay Area is full of creative, culturally clued in people, and this short film hopes to engage with this part of the world. But it is a gift from the Solano Kids to all of us: to the performance artists and the microbiologists, to the jaded and the downcast, to the seen-its, heard-its and done-its, to the joyful, the fearful and the humbugs, to the hurting and the lonely, to those who love Jesus and to those who don't know him, don't trust him, or just plain don't like him.
Much work and love have gone into the venture and we are immensely proud of what the Solano Kids achieved. We hope you enjoy watching it even half as much as we enjoyed making it and we pray it leaves you more curious than before. Along with the film we include here a Film Discussion Guide and some behind-the-scenes images. You can also listen to 'An Unlikely King' a short sermon from Pastor Andrew Hoffman which followed the debut screening of the film during our Christmas Celebration service.
If you have any questions about what you see – and we hope you do – drop Jackie, Miguel and Laura a line at info@solanochurch.org. We'd love to hear from you.
Behind the Scenes Gallery:
The Unlikely Adventures of the Searchers and the Misfits (PG Version) from Solano Community Church on Vimeo. 
NB – Very young viewers may want to watch the 'G' version of the film. The 'PG' isn't that scary but we leave it to the discretion of whichever grown up has to deal with the monsters under the bed.